By Elliott Teichman | February 10, 2020
Get to Know a Non-Roster Invitee: Matt Blackham
Each year at 213 we look through the Non-Roster Invitees to spring training and get to know them a bit. Are they in camp to get a look at big league hitting/pitching to aid their development? Are the Mets just trying to get a better look at a future rookie? Are they a veteran trying to get back to the major league level? What can we expect from them this season?
Today is the first official day of spring training! What better to celebrate than kicking off this series! Today we'll look at Matt Blackham, who was drafted out of Middle Tennessee State by the Mets in 2014. The 27 year old right handed reliever has been with the Mets his whole professional career and finally made it to Syracuse last year.
Let's just get the numbers out of the way:
Career: 136 G, 211.2 IP, 2.38 ERA, 1.087 WHIP, 12.1 K/9
2019 Binghamton: 28 G, 39.2 IP, 2.72 ERA, 1.059 WHIP, 13.4 K/9
2019 Syracuse: 12 G, 15.2 IP, 2.30 ERA, 1.085 WHIP, 6.3 K/9
Matt has put up impressive numbers throughout his minor league career and continued to do that last season. Age wise, it's about time for him to come up to the major leagues. He makes it out of camp with the ball club if there are injuries and he is able to rise above the other pitchers on the Mets 40 man who could also slide into that spot. So he is definitely on the outside looking in. On the other hand, his age makes it about right for him to come to Queens and the Mets have recently lost players that he would be competing against in the bullpen for various reasons.
He has a fastball that sits in the low 90's, a knucklecurve and a change up. He is also rule 5 eligible which could play a role in the Mets trying to find a way to force him on to the 40 man by the end of the season, depending on how he does in Syracuse.
Overall, the Mets have a lack of pitchers at the top levels of the minor leagues that can step in if something goes wrong this year. Matt Blackham could potentially be one of those pitchers. With the general shuffling of players on an off the 40 man as the year progresses, I expect to see Matt on the 40-man by the end of this year, possibly in Queens by September.
Media source: http://www.213milesfromshea.com/2020/02/10/get-to-know-a-non-roster-invitee-matt-blackham/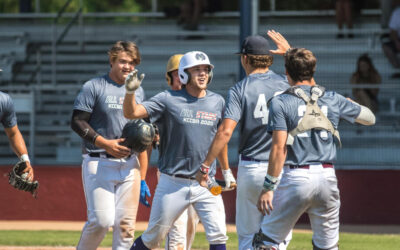 A day after recording two hits and no runs in a loss to Hays, the Kansas City Club All-Star rebounded with 13 hits and 11 runs in an 11-10 win against the Houston MVP Prospects…
read more