Dale Reed
18u Head Coach
Founder of the KC Bullets
My name is Dale Reed and I would like to briefly introduce myself. I grew up in St. Joseph, Missouri and attended Benton HS. I was a three sport athlete in HS, receiving multiple awards and honors in all three major sports. I was also a member of the National Honor Society. After graduating in 1982 I attended Missouri Western State University from 1983-1986 where I was a four year starting pitcher. I also played in the Casey Stengel, Ban Johnson, and Frank White leagues. Some of my accomplishments include academic and athletic awards, such as honor student-athlete; Academic All American recognition; Dean's Honor Roll, MWSU record book recognition, MVP, as well as Ban Johnson and Frank White All Star selections.
My wife (Cindy) and I founded the Bullets program in 1999. For over 25 years now I have been coaching and offering baseball instruction to players. As a coach I place an emphasis on excelling both on and off the field. I have coached players from ages 8 through 19, and coached teams in the Little League, USSSA, AAYBA, Triple Crown, Premier and NBC World Series organizations. My passion is to work with young players to develop their skills in order to increase their opportunity to play baseball at the highest level. I am committed to ensuring each player is provided quality instruction and coaching; a competitive and positive atmosphere; and exposure to all levels of college coaches. I have been fortunate to coach many very quality young players and have assisted well over 100 players in having the opportunity to play at the collegiate and/or professional level.
My profession is law enforcement. I am currently a 34 year veteran in one of the largest agencies in the State of Kansas. I hold the rank of Colonel and my area of responsibility is TRAINING. I manage and provide oversight to a Basic Police Academy, In-Service training program, Leadership Academy; SWAT team, and oversee Research and Planning. I believe in discipline, respect, honesty, commitment, hard work, and making good decisions. I believe in coaching and mentoring players to provide them with the necessary skills to be successful, not only on the baseball field, but also in life. I believe in leading by example. It is my goal to be a positive role model to those around me. I seek players who will take pride in participating in the Bullets program. Players must be committed to self-improvement and dedicated to the team. Life is a team sport!
My players, as well as their parents, are expected to have good character and display good sportsmanship. It is my goal to always leave a positive impression on other fans, players, umpires, and coaches.
Thank you for your interest in Bullets baseball.
Tim Atchity
16u Head Coach
I would like to introduce myself and give you some background as to why I have a passion for the game of baseball. I am from Raytown, MO, and graduated from Raytown South High School in 1984. I was a multi-sport athlete but exceled in baseball and football. After receiving professional and college interest in baseball and college offers in football, I decided to attend William Jewell College on a baseball scholarship. In high school and in college I received numerous awards, most notable in college receiving the Cartwright award for student athlete excellence on and off the field, five selections to the Ban Johnson Baseball All Star Game and senior year being elected team captain while earning conference player of the year award.
Most importantly is what baseball has taught me and how it relates to my personal life. I believe in strong, meaningful lifelong relationships with family and friends. I have been married to my wife Stephanie for 28 years and have 2 kids Max and Gabi who are currently attending college. Professionally I have been in the ticket business as a partner in the firm Ticket Solutions, working with a lifelong friend and business partner for the last 22 years. We have created a sustainable and profitable business instituting the same principles that we learned through playing sports. We hold ourselves and our employees accountable while giving them the latitude to grow with us as an organization. It has been a winning formula and afforded me the time to invest in coaching young men to become better baseball players.
My coaching experience started in my Junior year of High School when I started coaching 7th grade basketball for a few seasons. In baseball I started coaching Ban Johnson baseball in 1990 for my longtime coach and helped him win a Championship that had alluded his team for 10+ seasons in 1991. After a hiatus from coaching, due to starting our business and the early stages of starting a family, I began coaching again and have been doing so for the last 12 years.
From the day I reentered the coaching ranks I taught my teams and players to respect the game. I only want players who come prepared to improve every day on and off the field. The players we want in our program are young men who are willing to invest in themselves, are receptive to coaching and learn that dealing with adversity are the keys to succeeding at baseball and in life. These qualities and the desire to compete are nonnegotiable. Our players will to develop a mentality around these concepts that will allow for them to grow and mature into successful student athletes.
I am proud to be part of the Bullets organization and looking forward to contributing to a program that builds character in players and puts them in the right position to advance to the next level.
Luke Demko
18u Coach Assistant Coach
I would like to introduce myself to the Bullet's players and parents. My name Is Luke Demko and I am from Gilford, New Hampshire where I was a three sport All State player in baseball, basketball and soccer. I attended the University of Rhode Island on a baseball scholarship were I was the team's closer. I was an All-Atlantic 10 Player as well as being selected for the "Closer of the Year" watch list. I also hold single season and career records in both saves and strikeouts. During the summers I played in the New York Collegiate Baseball League, The New England Collegiate Baseball League and the Coastal Plains League. I was selected as an All-Star in all three leagues and the MVP of the Edenton Steamers in the Coastal Plains League.
I was drafted in the 29th round of the 2009 Draft by the San Francisco Giants, where I played in their rookie league. I then went on to play for the Newark Bears of the Atlantic League and the Wichita Wingnuts of the American Association league.
When my playing days were over, I went on to run a baseball facility called the Alamo Academy in Corpus Christi, Texas. I then had a calling for college coaching, and I received an opportunity to coach and teach classes at Fort Scott Community College. While at Fort Scott I was the pitching coach and recruiting coordinator. While there we had the Lowest ERA in school history and we were 2nd in GPA throughout all the junior colleges in the country. We also got all of our player scholarships to 4 year schools ranging from NAIA to Division 1 schools. I then went on to coach at my alma mater at the University of Rhode Island where I was the pitching coach and helped with recruiting. Additionally, during the summers I was the pitching coach of the Laconia Muskrats of the NECBL.
I am now currently employed at the Johnson County Sheriff's Office working in the Training Division.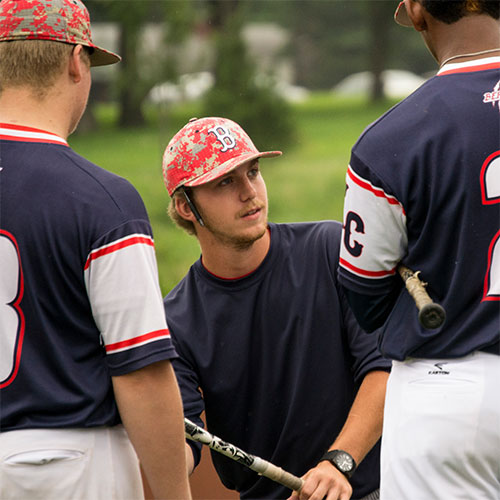 First I want to acknowledge two coaches that have been involved in the Bullets program for the past 8 years. As I update the website and provide current coaching bios, I must first acknowledge two coaches that have been instrumental in helping me. These two guys have worked to ensure that "our" program continued to grow and be successful. More importantly they have had a positive influence on 100's of players and families.
Blake Iles is leaving the program after 7 years of being Head Coach of the 16U team. Blake has accepted the Head Coaching position at Olathe East High School and through the summers will be spending more time with his wife and two children.
Connor Dawson is leaving after being a player for 3 seasons, an 18U Assistant Coach for 2 years, and a 16U Head Coach for 3 years. Through his time with the Bullets he also was an Assistant Coach at Benedictine College. Connor accepted a job in California with 108 Performance. In 2019, Connor accepted a position as hitting instructor with the Seattle Mariners.
Both Blake and Connor have been a huge part of our success for the past several years. These guys are true friends and I can't thank them enough.