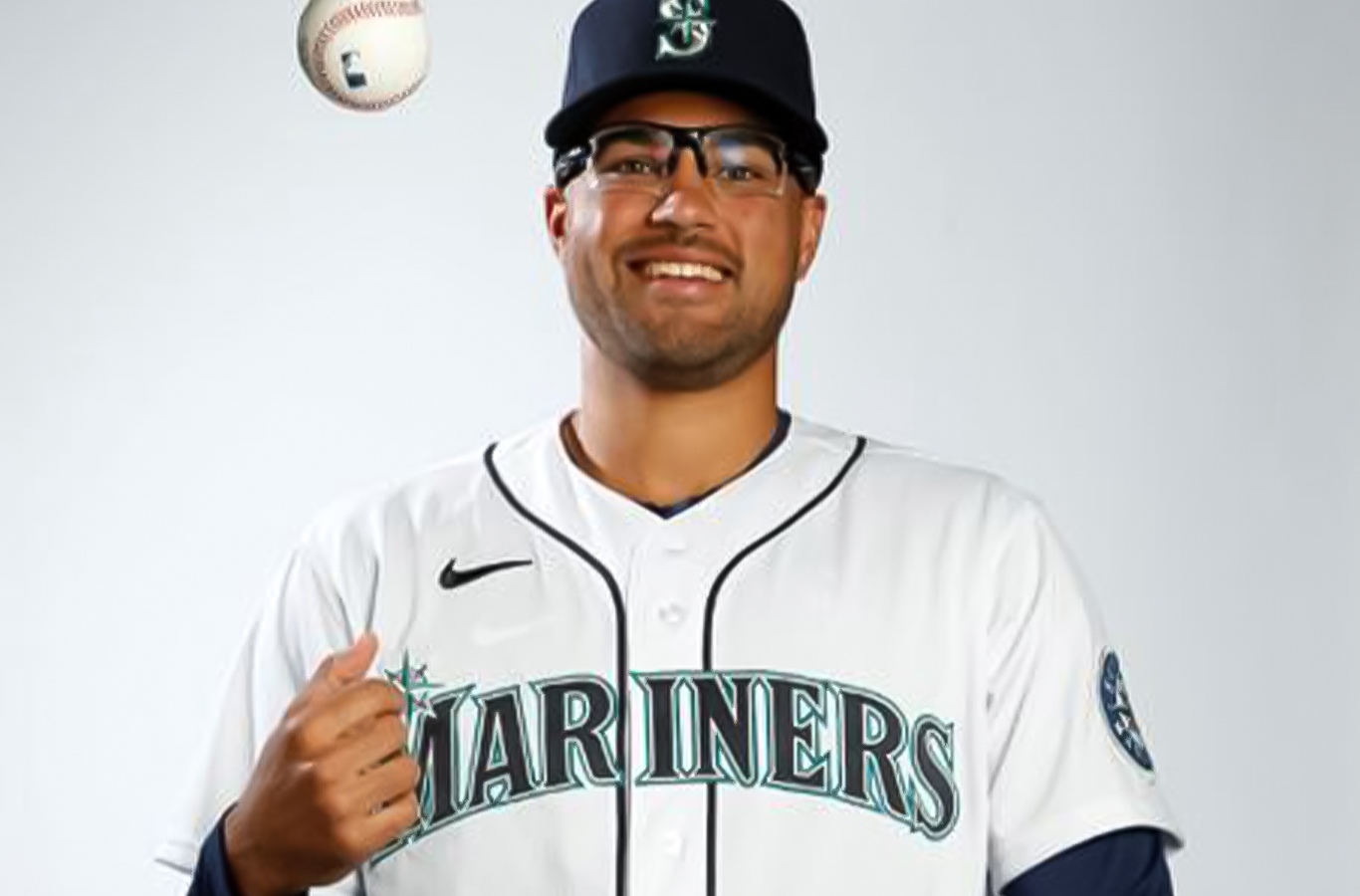 Checking in with Mariners Prospect Isaiah Campbell
By MarinersPR  |  May 5, 2020
Drafted by the Mariners with the 76th overall pick in the 2019 MLB First-Year Player Draft, right-handed pitcher Isaiah Campbell is waiting patiently to make his professional debut.
Isaiah Campbell was born in Angra do Heroismo on Terceira Island in the Azores, a set of small islands about 1000 miles from continental Portugal because his father, Parry, was stationed at the United States Air Force base there. And from there he spent time in Germany and Turkey before eventually spending most of his adolescence in Kansas.
At 6-foot-4, 230 pounds, Campbell is an intimidating presence on a pitcher's mound. His fastball was one of the best in the country when he was selected by the Mariners in the second round of the 2019 MLB First-Year Player Draft.
After appearing in back-to-back seasons in the College World Series and tossing over 118 innings with the University of Arkansas last season, it was decided that he would not pitch during summer. Instead he spent the short-season in Everett staying in shape, learning from his coaches and teammates and soaking up as much as possible during his first professional season.
When the start of the baseball season was postponed in March, Campbell had recently faced hitters in a live BP session, his first time facing live batters in almost eight months. With the season currently on hold he continuing to stay in shape to be able to pick up right where he left off.
We recently caught up with Isaiah Campbell to learn how he is adapting to the delayed start of the minor league season.
What are you doing during this time without baseball?
"I am currently back home in Kansas with my parents right now. My sister and her husband live about 25 minutes away so it is nice having everyone so close together."
Besides staying in shape for baseball, what have you been doing to stay busy?
I have been playing some golf and enjoying card games with my family. Spades is our favorite game and we can all get competitive when playing. It's actually really even in who wins between us, but some games can get intense."
When did you first pick up playing baseball?
"I started playing baseball when I was five while my family was living on an Air Force Base in Turkey. At first it was just an excuse get outside with the other kids on the base. I enjoyed playing baseball, but my first love was actually basketball. I fell in love with the game way before baseball. But, there's just not many 6-foot-4 centers in basketball these days. I always excelled at baseball so I ended up focusing more of my time on baseball rather than basketball as I got older."
Have you been watching the new Michael Jordan documentary?
"I have watched all of episodes so far and have really enjoying looking back at Jordan's final season. It may be my favorite documentary of all-time. Growing up I was a huge fan of both Kobe Bryant and Shaq, but my favorite team to follow was the Oklahoma City Thunder. Russell Westbrook and Kevin Durant have been my two favorite all-time Thunder players."
When did you focus on pursuing your baseball career?
"I had some offers from a couple of small colleges to play basketball, but not a ton of interest. After playing basketball my junior season of high school, I decided to focus all my attention into baseball and getting ready for the future."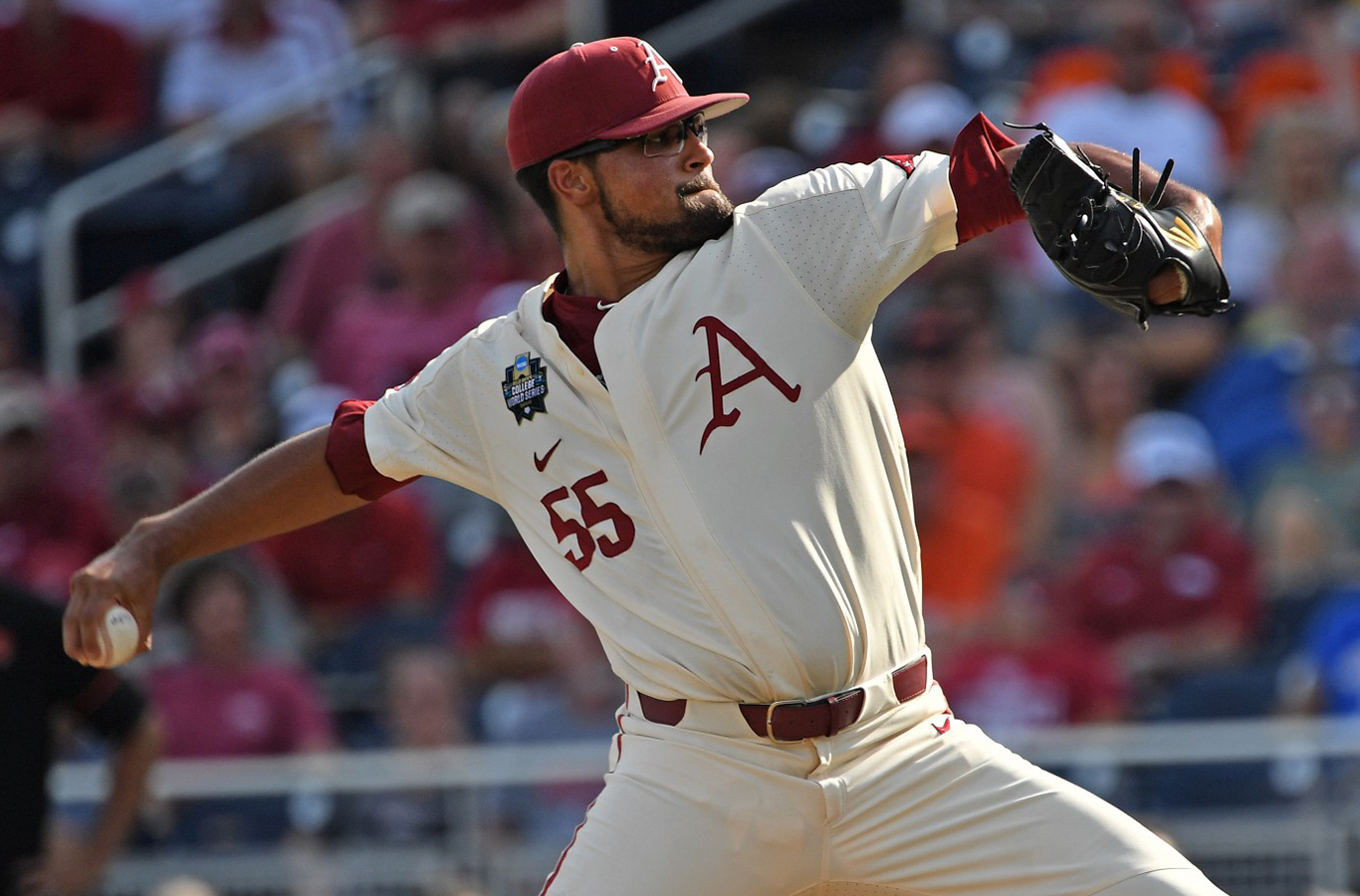 How did you decide on attending the University of Arkansas?
"During my junior year, I started getting interest from colleges to play baseball. We set up an official visit to tour the campus after the recruiting coordinator came and watched me pitch. We went down to Fayetteville and I just fell in love with campus and the city. The baseball facilities, the coaching staff and the fan base just really sold me on the idea of playing my college career at Arkansas. I attended a home game and was just blown away by the atmosphere. The fans really caught my attention for their passion and love of the team. The school also had a good support staff on the academic side to help you grow off the field as well as focusing on your academic career. To top it off, I fell in love with the city of Fayetteville. It is a beautiful city with many things to do and the people were extremely friendly. Before we even left the campus, I knew I was going to be playing my college career at Arkansas."
Are you still working on finishing your degree?
I am a one class short, but currently working toward finishing my degree and will finish soon. I majored in Criminal Justice, but will also have a minor in Chemistry. When I started college I was a biochemistry major, but switched to Criminal Justice my sophomore year.
How did you decide to go back to school after being drafted in 2018?
"For me there were a couple things that had to do with making the decision to return to school. A lot of it had to do with the fact I didn't think I was fully ready for the minor leagues or the professional life of baseball yet. I still felt I could continue to learn, grow and fine tune to my game. I thought another year at Arkansas was the best option for me to prepare myself for pro ball. I knew my talent and I knew I was good enough to go higher in the draft, but it was definitely a risk to return to school. I also wanted one more shot at winning a College World Series. We went to Omaha that year and finished second. The feeling that being so close to winning a national championship, I wanted to try it again at Arkansas. So coming back for the next year I wanted to grow physically and mentally and learn more about myself on the baseball field, but also try to win a national championship for Arkansas."
How was it playing in the College World Series in back-to-back seasons?
"It was a dream come true. When you grow up playing baseball the goal for every team is to get to Omaha. As a team in 2018 we were all excited we had the chance to win the National Championship. We fell one game short of winning it all that year and it was crushing. Last year we weren't expected to return to postseason play. We wanted to beat the odds and prove everyone wrong. So my second year experiencing the College World Series was really more satisfying because we beat the odds. We were able to prove everyone wrong that doubted that we could get back to Omaha. It was an amazing experience for everybody on the team and being playing against the best teams in the country. I was extremely thankful for both opportunities."
What do you remember from being drafted by the Mariners last year?
"Day one of the Draft was on Monday. We had just won the Regional to qualify for the Super Regional the night before and we were pumped up about the win. I decided to celebrate by watching the draft from home with my family and roommates. I saw my teammate Dominic Fletcher get drafted with the 75th pick. I was so excited him and then with the next pick I heard my name selected by the Mariners. I had heard a lot about the organization and I knew this was going to be a perfect fit for me. I was speechless after seeing my name pop up on the screen and then hearing my name on the TV. It was awesome to experience that with my family. Seeing how happy my parents were for me to fulfill my lifelong dream made the experience even more memorable. I got a call from Scott Hunter shortly after I was drafted welcoming me to the organization. At that moment it really started to sink in that this was really happening."
How was the transition from College to the Minor Leagues?
"Once I finished my season at Arkansas I was able to take two weeks off to relax and spend with my family before to flying out to the Mariners facility in Arizona to sign my contract. I started working with the High Performance staff on a program to prep for the season. I threw 118.0 innings last year in college so I wasn't sure if I was going to throw more innings or if I was going to be shut down. I was keeping my arm fresh just in case I was able to throw. The day before I left for Everett I was told due to my innings that I had already thrown, I wouldn't be throwing during the summer. I was understood the decision and was completely on board with the program they setup for me. Luckily the pitching coach in Everett played catch with me daily to keep my arm moving."
How was your experience in Everett?
"I loved Everett. It was a good fit for me and I learned more than I ever expected. I spent the summer with a great group of guys and I was able to pick their brains about baseball and learn from watching them pitch. We spent a lot of time to together and bonded and we continue to talk to every day. I am looking forward to progressing with them through the Mariners system. The coaching staff was awesome and had all of us prepared for each game. I also got to see a part of the country I've never seen. I had been to Portland, but I had never spent much time in the Pacific Northwest. I was able to explore Seattle and see Spokane, the Tri-Cities and Vancouver. The highlight of the summer was getting to tour the facilities T-Mobile Park for the first time. I didn't get to see a game since it was an off day, but the experience was unbelievable."
What was your experience participating in the Mariners Gas Camp this year in January?
"Being around all of the pitching coaches in the organization was an enjoyable experience. We learned a lot about the mental side of pitching and learned the importance of dominating the zone to put yourself in the best situations possible to succeed. On the throwing side, we learned how to make our bullpens more beneficial, which translates into better preparation for the games. It was an eye opening experience. I learned a lot about myself and I learned how to adapt and change to learning new things. This has helped my game get better right now and down the road. This will really help me get to where I want to get with my throwing. All in all it was a really good experience."
How did you prepare for Spring Training?
I got to Arizona in early January and I was ready to be able to face live batters and get ready for Spring Training. I was able to participate in Mini Camp in February and I was fully ramped up and ready to pitch in games. A week before the season was postponed, I had faced my first live batters since the College World Series. I had another live BP session coming up when everything was officially shutdown. I was ready for Spring Training and getting ready for the competition of the season. Hearing the start of the season was going to be postponed was difficult to hear. It didn't seem real at first. I was a little distraught because I knew it would be awhile again before I got a chance to face live pitching.
How are you staying active after not pitching in a competitive game in almost a year?
"I am still working out, weightlifting and playing catching every day. Just trying to keep my arm fresh and my body healthy. I want to continue to get stronger and stay ready when I do get the opportunity to pitch again. I'm limited in what I have access to, but I am making it work. I also have been fortunate to have a field a few minutes from my house where I can go out and long toss every day with a friend. I'm definitely ready to get back into playing again. I think everyone is getting antsy to get out there, but the most important thing is the health of everyone in our country and around the World.
Media source: https://marinersblog.mlblogs.com/checking-in-with-mariners-prospect-isaiah-campbell-c1a0b6bac628
New York Mets right-handed pitcher Matt Blackham pitches in relief during an October 19, 2018 Arizona Fall League minor league baseball game.
read more