De Noble Makes Successful Return to Fayetteville
FAYETTEVILLE — Henry de Noble is having fun showing his teammates around his hometown. He's also helping them win.
De Noble had a key single in the sixth inning when the Kansas City Bullets scored a run to defeat Arkansas Express 3-2 in the Hawg Baseball Showcase on Wednesday. The victory moved the Bullets to 4-0 in the tournament that will conclude Sunday.
De Noble lived in Fayetteville until the eighth grade when his family moved to Manhattan, Kan., where his father, Tim de Noble, is the dean of architecture at Kansas State. De Noble came to bat for the first time Wednesday in the sixth inning after entering the game in left field. The all-state pitcher lined a hit-and-run single up the middle to put runners on the corners with one out. Carson Green then laid down a squeeze bunt to score Ross Messina, who had reached on an error.
Kansas City then won the game, 3-2, after Messina retired three consecutive batters in the top of the seventh. "I was just trying to protect the plate with two strikes," said de Noble, who was set to attend Ramay Junior High in Fayetteville before his family moved to Kansas. "It's fantastic to come back to Fayetteville and the facilities here are unbelievable. It's fun to see some of my old friends and show my (Kansas City) teammates around. I've taken them to Hugo's and all the good places to eat."
Kansas City tied the game, 2-2, in the fifth inning on a triple by Jake Biller and a single by Austin Hoegerl. The Bullets made a bid to take the lead after Trent McMaster hit a double off the right field wall. But Arkansas Express catcher Spencer Lloyd made a sweeping tag of Hoegerl after a strong relay throw from second baseman Nick Graves. "Earlier in the game, we had some poor approaches at the plate," Bullets coach Dale Reed said. "But they stayed the course and knew what their approach was supposed to be in the (sixth) inning. Henry is mostly a pitcher only who went up there and hit a rope."
De Noble was 7-1 this season at Manhattan High School, which finished third in the state. He'll continue his career at Iowa Western Community College, which has won three of the past five national championships in junior college.
Biller had a triple and single to lead Kansas City, which outhit the Arkansas Express 9-5. Kansas City starter Isaiah Campbell (6-foot-4, 240 pounds), who is committed to Arkansas, pitched five innings and did not allow a hit until the fifth inning. He allowed two runs and five hits before Messina took over to earn the win. "Everybody has things to work on, but he pitched well," Reed said. "He's a big-body kid and he's actually only 16 years old. He loses control sometimes but he mostly kept the ball low and did a good job."
William Klek had a two-run single for Arkansas Express, which is comprised of players from around the state.
Media source: https://www.nwaonline.com/news/2014/jun/19/de-noble-makes-successful-return-to-fay/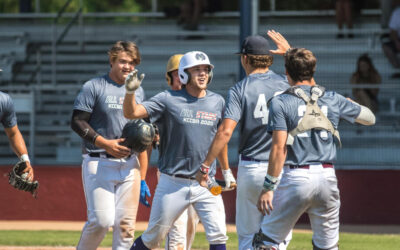 A day after recording two hits and no runs in a loss to Hays, the Kansas City Club All-Star rebounded with 13 hits and 11 runs in an 11-10 win against the Houston MVP Prospects…
read more